Leigh Keno recently placed the table pictured here in a private American collection. It is a masterpiece of American furniture and we are thrilled to have assisted in the transaction.
Keno Auctions industry experience and market expertise can be used for a variety of private transactions. We can assist in the acquisition and sale of items or entire collections for clients interested in privacy, immediacy and flexibility. It is easy for us to identify potential buyers by utilizing our vast network of clients to sell your items discreetly for the highest price possible. By providing the options of selling your object or collection at auction or through private sale, Keno Auctions gives the seller the information to choose the optimal venue.
Collection Management
Your art collection is an important investment and Keno Auctions can help develop and manage the collection properly. We will work with you to create a collecting plan, evaluate possible acquisitions, and negotiate favorable terms that protect your investment. We follow all the major global auctions and have our fingers on the pulse of the art market trends.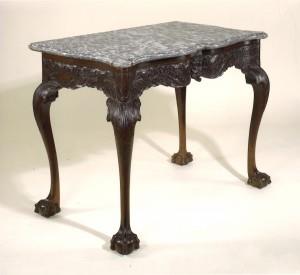 Chippendale Carved Mahogany Marble-Top Pier Table
Philadelphia, Pennsylvania, c. 1755-1760