We are passionate about art. We are an innovative auction house that honors the importance of legacy. We are creative and dynamic. We love luxury and revere the creative impulse. From the initial appraisal to the final gavel, we offer you all the thrill and excitement of the auction process. Welcome to Keno Auctions!
Integrity and Expertise
Keno Auctions is renowned for our expertise in fine and decorative arts. With more than 30 years experience, founder Leigh Keno has earned a sterling reputation for honesty and integrity. His brilliant team of experts specialize in paintings, furniture, decorative arts and jewelry.
Beginning with our very first sale, Keno Auctions has been proud to offer a wide range of fine and decorative arts dating from the 17th through 21st centuries. From Rembrandt to Calder, from Goddard to Rietveld, and from Cartier to Tiffany, we have presented the finest objects at auction with record-breaking results.
Drawing upon our deep understanding of the power of art and its central role in human culture, we have created a unique place within the worldwide market. From affordable works to masterpieces, Keno Auctions is exceptionally positioned to bring art and people together.
Founded in 2009, Keno Auctions is a premier full-service auction house located on Manhattan's Upper East Side, offering fine art, furniture, decorative arts, Asian works of art, jewelry and a variety of specialty categories for sale.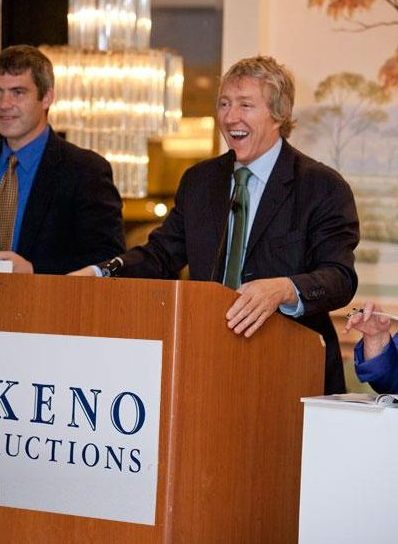 We work with estate executors, fiduciary advisors and private clients who regularly use our valuation services to provide comprehensive appraisal and auction opportunities. Our auctions attract a broad base of buyers and consignors from around the globe. The company's meticulous and well-researched assessments have earned Keno Auctions a notable reputation for integrity, expertise and dependability. Individual attention is our focus; Leigh Keno is intimately involved with each consignment. Achieving the highest possible prices at auction is the goal for our clients.
Keno Auctions' will coordinate and simplify the process of appraising and liquidating estate property or private collections. We provide expert evaluations and personalized services designed to meet the individual needs of our clients. Our company's capabilities include:
Preliminary Appraisals: We offer a preliminary walk-through appraisal on-site at no charge or obligation, depending upon the location of the property.
Authoritative Appraisals: We can arrange for appraisals for Estate and gift tax, charitable donation, insurance, estate and financial planning. If sales are considered, we would be pleased to provide auction estimates accompanied by a proposal for sale and marketing plan.
Packing, Shipping, Storage & Broom Clean Service: We will make arrangements for insurance, packing and shipping of your property. We provide storage for all objects awaiting sale. Any item not offered at auction will be given our 'Broom Clean' service to organize for its removal, shipment or donation.