Leigh Keno and Leslie Keno Visit The White House

Get a rare, behind-the-scenes glimpse of the treasures of The White House as Leigh Keno and his brother get an exclusive tour with former First Lady Laura Bush in 2008.
From the History Channel special.
Video production credit Tim Miller, Big Chief Entertainment.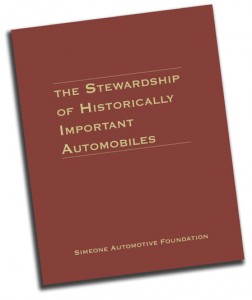 The desire to respect well-preserved great automobiles is not a new idea. For decades, closet conservators have not come out because of the pristine restoration focus that dominated the hobby. They worried that their scruffy treasure would pale on the show field. They were told a ground-up is mandatory. Was the preservation motivated by parsimony? And of course a trophy was out of the question. The mainstream seemed to abhor imperfection. While acknowledging their vehicle was technical jewelry in every way, they shamelessly changed its colors, trim, and even its design. Scores of unusual animals were sacrificed to add wow to the trim. No nut, bolt, or tie-rod arm escaped the chrome plater's tank. Wire wheel spokes scintillated on the podium. Novel colors were protected with clear coat. When it was easier to replace than fix, the choice was easy. Racing damage was a badge of courage… Click to read more
---
Barn Star Productions

Please visit Barn Star Productions to learn about the premier antique shows in your area  http://www.barnstar.com/index.htm.